The opioid overdose crisis continues to be a top priority for the College and other public health organizations across the province. BC's opioid overdose crisis continues its unprecedented escalation over the past few years, with the rate of overdose deaths in BC remaining relatively consistent in the years since 2017.
Much like in recent years, the College is working hard to help combat this issue, from implementing new policies and training, to evaluating the effectiveness of our efforts thus far, and introducing new support measures to help substance use patients.
Here is a brief recap of some of the policies and projects we worked on over the past year to help address BC's opioid crisis:
BC Take Home Naloxone Program: Evaluation of the Expansion into Community Pharmacies
Since 2012, a total of 181,800 kits have been reported as distributed by Take Home Naloxone (THN) sites in BC. Of those, more than 50,000 kits have been used to reverse an overdose.
The BC Centre for Disease Control's (BCCDC) THN program provides low-barrier access to naloxone kits and training at no cost to:
Individuals at risk of an opioid overdose
Individuals likely to witness and respond to an overdose such as a family or friend of someone at risk

Individuals who do not meet this criteria (such as healthcare employees, businesses, or those seeking it for OH&S purposes) are encouraged to purchase naloxone from a local pharmacy. Both injectable and intranasal formulations are available for pharmacies to order.
The BC THN program initially made naloxone kits available through harm reduction sites and community organizations where individuals at risk of an overdose may be accessing other services. In December 2017, the program expanded into community pharmacies to increase access to THN.
As of November 15th 2019, 708 community pharmacies participate in the BC THN program.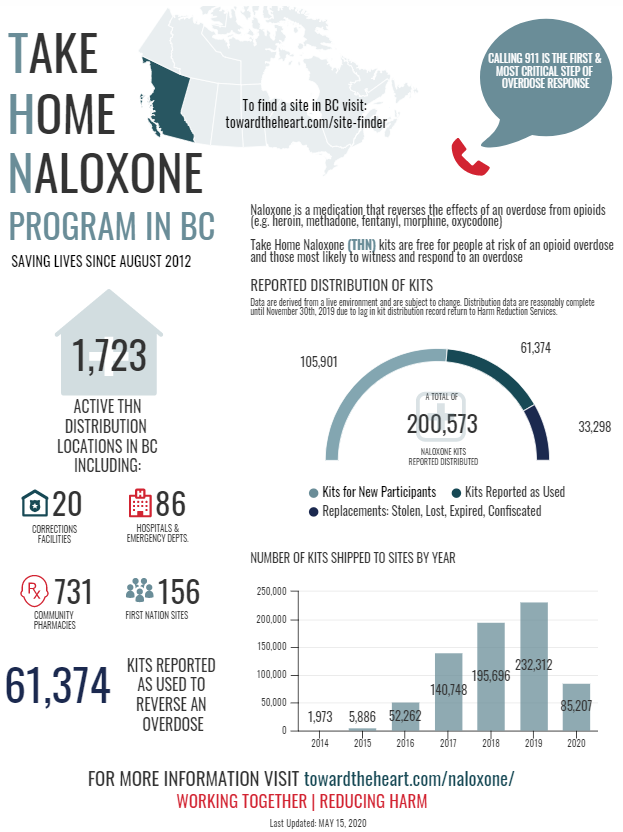 (The latest stats on the Take Home Naloxone Program)
Summary of Evaluation Findings and Recommendations
A mixed-methods program evaluation was conducted to identify strengths and barriers of the implementation and ongoing management of THN in community pharmacies, as well as to capture participant attitudes, perceptions and beliefs one year after the expansion into pharmacies. The report was recently published by BCCDC Harm Reduction Services on Toward the Heart.
Program Record Review: Key Findings
Between January 1, 2018 and December 31, 2018 a total of 3,523 kits were reported as distributed by 562 pharmacy sites
Most individuals obtaining a THN kit from a pharmacy were male (51%) and aged between 31 and 60 (47%)
71% of kit recipients at pharmacy sites were receiving their first kit compared to 40% at non-pharmacy THN sites
The majority (58%) of THN kits were distributed to individuals not at risk of overdose themselves compared to 32% at non-pharmacy THN sites
Overall, the expansion of THN into community pharmacies has been well received across the province. Centralized distribution models have facilitated the onboarding of hundreds of pharmacies to date. Continued expansion is encouraged, especially in rural and remote areas with limited access to THN. The distribution of THN kits through pharmacies increases access to individuals who may not access traditional harm reduction services (i.e. family or friend of someone at risk).
Learn More:
Opioid Agonist Treatment Training
As of January 1, 2019, new Opioid Agonist Treatment training requirements are now in effect.
A new Opioid Agonist Treatment Compliance and Management Program (OAT-CAMPP) for community pharmacy has been developed and is aimed at reducing stigma and expanding pharmacists' knowledge about methadone, buprenorphine/naloxone and slow-release oral morphine.
OAT-CAMPP, administered by the BC Pharmacy Association addresses gaps in the College's current MMT training program by providing additional education for pharmacists and pharmacy technicians involved in delivering care to patients with opioid use disorder.
The program also aims to improve the experience and engagement of people receiving treatment. It supports the College's Opioid Agonist Treatment requirements and will eventually replace the College's current Methadone Maintenance Treatment (MMT) training program.
OAT-CAMPP aligns with the College's updated Professional Practice Policy–66: Opioid Agonist Treatment (PPP-66), and will replace the College's current MMT training program.
A transition period will take place up until March 31, 2021 during which PPP-66 will require pharmacy managers, staff pharmacists, relief pharmacists and pharmacy technicians employed in a community pharmacy that provides services related to buprenorphine/naloxone maintenance treatment, methadone maintenance treatment or slow release oral morphine maintenance treatment to complete either the College's existing MMT training program or the BCPhA's new OAT-CAMPP course.
Learn More: News: New Opioid Agonist Treatment Training Requirements Now In Effect
Changes to the Delivery Requirements for Opioid Agonist Treatment
New delivery requirements for Opioid Agonist Treatment, allowing pharmacists to use their professional judgement to deliver the drugs to a patient if they feel it is safe, appropriate and in the best interest of the patient to do so, are now in effect.
The College of Pharmacists of BC Board approved a suite of amendments to Professional Practice Policy 71 – Delivery of Methadone for Maintenance (PPP-71), including renaming the policy to Delivery of Opioid Agonist Treatment.
Previously, PPP-71 allowed pharmacists working in community pharmacies to deliver methadone for maintenance to a patient's home only if the prescribing physician authorized the delivery due to the patient's immobility. With these coming changes, pharmacists will be able to provide delivery if it is safe, appropriate and in the best interests of the patient to do so.
Overall, the updates to this policy are intended to improve access to Opioid Agonist Treatment (OAT) for patients whose care may benefit from delivery while ensuring the safety of both the patient and the pharmacist involved.
Learn More: News - Changes to the Delivery Requirements for OAT Now in Effect