---
2016/17 Annual Report
Highlights
---
125th Anniversary
The College celebrated 125 years of protecting the public through pharmacy regulation!
A future of pharmacy themed conference was held to mark the occasion which was packed full of accredited pharmacy topics, with learning opportunities stretching from compounding to physical assessment and health technology.
We're about to kick off #CPBC125 . Looking forward to a full day of learning and connecting. pic.twitter.com/ws9WRDCflN

— BC Pharmacists (@BCPharmacists) September 17, 2016

To watch the 125th Anniversary Conference webcast, visit bcpharmacists.org/cpbc125.
DrugSafeBC
2014 and 2015 saw a rapid increase in the number of BC pharmacies robbed by armed criminals looking for highly addictive and dangerous narcotics to sell on BC's streets. Responding to this, the College implemented its DrugSafeBC program which requires all pharmacies in BC to store their narcotic drugs in time-delay safes.
Stats show pharmacy break/enters have increased from 17 in 2015 to 25 in 2016. 47% increase – Physical barriers important in combating this. pic.twitter.com/IPMucA5RBM
— BC Pharmacists (@BCPharmacists) February 17, 2017

After our DrugSafeBC initiative was put into place, pharmacy robberies declined considerably – there were only 5 pharmacy robberies in 2016, down from 44 in 2015. We are hopeful that this downward trend continues.
To learn more about DrugSafeBC, visit bcpharmacists.org/drugsafebc.
The College also developed minimum security measures for community pharmacies through amendments to the Pharmacy Operations and Drug Scheduling Act (PODSA) Bylaws which were approved for filing with the Ministry of Health by the College Board in February 2016.
New pharmacy security requirements, including new provisions for physical barriers are now in effect. Learn more: https://t.co/7F7lNL9auL pic.twitter.com/i3q2HOMn8t

— BC Pharmacists (@BCPharmacists) April 21, 2017
To learn more about the new security requirements, see New Pharmacy Security Requirements Now in Effect.
Certified Pharmacist Prescriber Initiative
Significant strides were made in the Certified Pharmacist Prescriber Initiative. The College used the Draft Framework to engage with pharmacy professionals, other prescribers and the public on pharmacist's prescribing role in preventing patient harm and increasing access to drug therapy.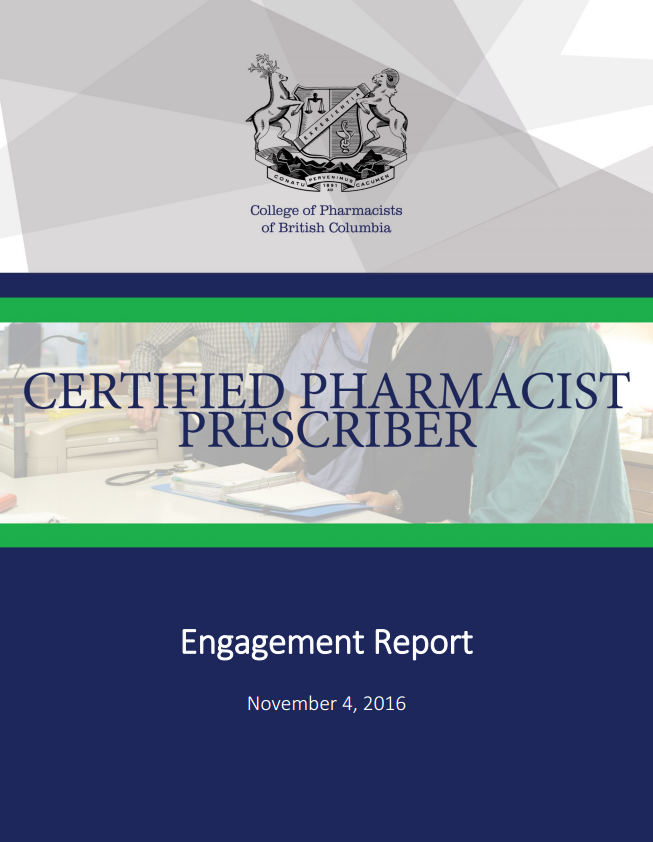 After conducting a stakeholder engagement between February and August of 2016 that received more than 11,400 comments, the College Board approved narrowing the scope of the proposal to prescribing within collaborative practice.
Collaborative practice would include interdisciplinary team-based settings where physicians and nurse practitioners continue to be responsible for the diagnosis; and where access to health records and diagnostics, including lab tests, would also be required. Certified Pharmacists Prescribers would also be restricted from dispensing medications they prescribed for a patient.
To learn more about the Certified Pharmacist Prescriber Initiative, visit bcpharmacists.org/certified-pharmacist-prescriber.
Practice Review Program
In November 2016, the College Board approved the implementation of the second phase of the Practice Review Program: Hospital Practice. Following the success of reviews in community practice, the College starts in-person reviews of hospital pharmacies in April 2017.
Like Community Practice Reviews, Hospital Practice Reviews will be conducted cyclically on a multi-year time frame and include both a Pharmacy Review and individual Pharmacy Professionals' Reviews.
"The Practice Review Program is a key tool in protecting public safety." – Bob Nakagawa, Registrar. https://t.co/36hOOLcIJR #bchealth #bchc pic.twitter.com/MBX5rih4Jz
— BC Pharmacists (@BCPharmacists) February 14, 2017
To learn more about the Practice Review Program, visit bcpharmacists.org/prp.
Medical Assistance in Dying
On February 6, 2015, the Supreme Court of Canada ruled in Carter v. Canada that the federal Criminal Code prohibitions on medical assistance in death (MAID) infringe the Charter of Rights and Freedoms, particularly the rights to life, liberty, and security. MAID was to be decriminalized in June 2016, to allow time for both the Federal and Provincial governments to develop a legislative framework along with regulatory authorities and associations to develop corresponding policies and guidelines.
This led to the introduction of Federal legislation, Bill C-14, which decriminalizes medical assistance in dying. Bill C-14 prompted the College to work collaboratively with health regulatory colleges and other stakeholders to update its Code of Ethics; the HPA bylaws for standards of practice in community hospital and residential care pharmacies; as well as create new  standards, limits and conditions for MAID, to reflect the legislation changes. The College also introduced guidelines for pharmacists who choose to provide services within the context of MAID.
To learn more about Medical Assistance in Dying, visit bcpharmacists.org/medical-assistance-dying.
Naloxone and the Opioid Overdose Crisis
In 2016, due to a significant increase in drug related overdoses and deaths, BC's Provincial Health Officer declared a public health emergency. This move was unprecedented – BC was the first province to take this kind of action in response to the current drug overdose public health crisis. With the surge in illicit fentanyl partly responsible, the province experienced 931 unintentional overdose deaths in 2016.
In response to the opioid crisis, the College amended the BC's Drug Schedules Regulation twice. First, in February 2016, the College approved rescheduling the narcotic overdose antidote, naloxone, from Schedule I (prescription only) to Schedule II when used for emergency opioid overdoses outside hospitals. This meant that naloxone would be available as an "over the counter" medication for emergency situations.
How much do you know about emergency use #naloxone? Learn more about this life-saving drug https://t.co/toETXPDgaA #stopoverdose pic.twitter.com/geQWYWN6cV

— BC Pharmacists (@BCPharmacists) January 9, 2017

In recognizing the severity of the opioid crisis, in September 2016, the College's second amendment to the Drug Schedules Regulation made naloxone "unscheduled" when used for opioid emergencies. This allowed naloxone to be made available outside of pharmacies and to be purchased by anyone. As a result of the College's actions, British Columbians can more easily access this life-saving drug.
BC was the first province in Canada to make naloxone available outside of pharmacies.
To learn more about naloxone and the opioid overdose crisis, visit bcpharmacists.org/naloxone.
New Model Standards for Pharmacy Compounding
The National Association of Pharmacy Regulatory Authorities (NAPRA) has been working to develop a series of new model standards for pharmacy compounding. So far, two documents have been released on hazardous and non-hazardous sterile preparations with the third, focused on non-sterile preparations, expected later in 2017. These standards are being implemented across Canada.
In order to inform the College's approach to implementing the new standards, we sought input from pharmacy professionals and developed a Gap Identification Tool to assess the gaps between NAPRA's new model standards and current pharmacy practice.
To learn more about College's plan for implementing NAPRA's new model standards for pharmacy compounding, visit bcpharmacists.org/compounding.
Moving Forward With a College Name Change
The College Board made the decision to pursue officially changing the name of the College of Pharmacists of British Columbia to the College of Pharmacy of British Columbia. Changing the name of the College would require a regulation change under the Health Professions Act.
63% of participants voted 'yes' to a College name change. #CPBCBoard #CPBCEngage pic.twitter.com/Dw9ZKSq31J

— BC Pharmacists (@BCPharmacists) September 16, 2016
The Board reviewed the feedback received through the College Name Change Engagement. The College received over 1,500 responses to the online survey used to collect feedback. The College Name Change – Results of Online Engagement Report, which summarized the results of the feedback, was shared with the College Board. The majority of feedback to the College's Name Change Engagement suggested that the College should consider changing its name to better reflect the College's role in regulating both pharmacy technicians and pharmacists in BC.
An official name change can take considerable time to implement as it requires formal consideration by the Minister of Health. In light of this, it's hard to predict the timing of when the change could take effect.
New Requirements for Pharmacy Ownership Coming Soon
In May 2016, the Provincial Government approved amendments to the Pharmacy Operations and Drug Scheduling Act. These changes permit the College to know the identity of all pharmacy owners, determine their suitability for pharmacy ownership and to hold them accountable for providing safe and effective care by ensuring their pharmacies are compliant with legislative requirements for pharmacies in BC. The new requirements are planned to come into effect on March 1, 2018.
New Requirements for pharmacy ownership begin March 1, 2018. Learn more https://t.co/09Z5ut8La6 pic.twitter.com/fcDQqmVwtj

— BC Pharmacists (@BCPharmacists) March 22, 2017
To learn more about the new requirements for pharmacy ownership, visit bcpharmacists.org/ownership.